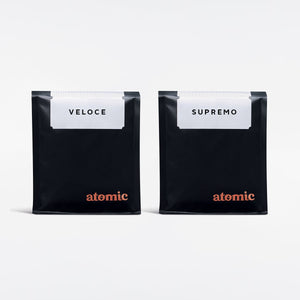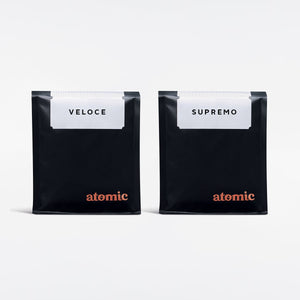 On Sale
Blends – Pay As You Go Coffee Subscription
With our coffee blend subscription, you can set up weekly, fortnightly or monthly deliveries of our flagship Veloce, Supremo, or Essenza (Certified Organic) coffee blends – direct to your home or work.
By signing up to a Atomic Blend subscription you'll save up to 20% on a typical online purchase where the cost of the coffee and courier are bundled. You can make changes to your subscription to suit your needs and change delivery schedules or put orders on hold as you like.
Subscription includes a 250g bag of coffee, shipping, and is dispatched on the day of your initial order.
Blends (Espresso)
Veloce - Our flagship blend. Cinnamon, chocolate and stone fruit. 
Supremo - Marshmallow, cacao nib and clove. 
Essenza - Certified organic. Hazelnut, caramel and apricot.