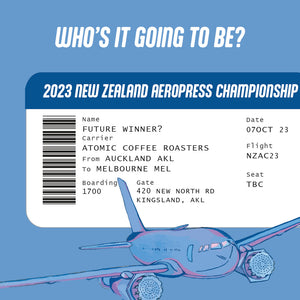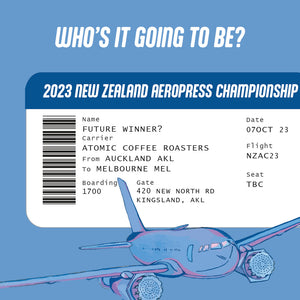 On Sale
Competitor Ticket - 2023 New Zealand AeroPress Championship
ALL TICKETS HAVE NOW SOLD OUT
If you'd like to join the waitlist, send an email to lisa.boudet@atomiccoffee.co.nz

The New Zealand AeroPress Championships are back for another year!
Grab a ticket and get a chance to compete for a spot at the World event, held in December in Melbourne. 
The 2023 NZAC will be held on Saturday 7th October 2023 at Atomic's Kingsland roastery, 420 New North rd, Kingsland, Auckland. Doors open to the public at 4:30pm and the competition starts at 5pm. Competitors will be expected on site around 4pm for run-through and practice time.
Please ensure you've read details of the competition (time, location) correctly before booking your entry. 
This competition is proudly hosted by Atomic Coffee Roasters, with support from Acme , Decent Packaging, Boring Oat Milk & Yellow Rooster Coffee Imports.